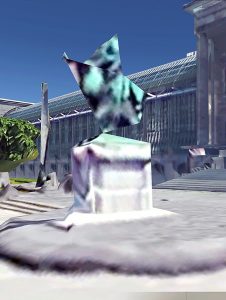 Visual Realities – The Computation of Photography
artists
Kathrin Ganser
Carola Lampe
Maxime Matthys
Michael Reisch
David Young
With the use of artificial intelligence in photography, the definition and boundaries of the medium are increasingly being renegotiated. With "Visual Realities - The Computation of Photography," AFF Galerie explores this trend as an important influence on photography in the age of digitalization. The exhibition presents positions that explore the possibilities of artificial intelligence in very different ways and in which the classical photographic gesture is also tested away from the camera. The five artists Kathrin Ganser, Carola Lampe, Maxime Matthys, Michael Reisch and David Young create their own visual language in the visual realities they create, moving through analog and digital spaces in the field of tension between reality, fiction, control and chance.
In "Digitale Ruinen," Kathrin Ganser examines our increasingly globalised, collective ways of seeing by exploring and questioning what we encounter on Google Earth through the lens of media aesthetics. In "Tell Me What to See," Carola Lampe explores the juxtaposition of reality and fiction and the tension between the human and the mechanical. Maxime Matthys' work "2091: The Ministry of Privacy" explores the impact of AI-based technology on everyday life in China, with the aim of making the invisible visible. Michael Reisch's "iPhone-series: Roland Barthes_AI" deals with the delegation of pictorial decisions to artificial intelligence and algorithms. Whether, on the other hand, aesthetic experiences can bring about a new beginning for our thinking about AI is what David Young wants to find out in his work "Learning Nature".
Curatorial team of the AFF Galerie: Julia Brigasky, Maidje Meergans, Matthias Walendy.
The exhibition is supported by the Senate Department for Culture and Europe Berlin.
Visit
Address
AFF Galerie
Kochhannstraße 14
10249 Berlin
opening hours
During the exhibitions
Saturday and Sunday
3-6 pm
transport
M5, M6, M8, M10
Landsberger Allee / Petersburger Straße
S41, S42, S8, S85, S9
Landsberger Allee
U5
Frankfurter Tor
society
AFF Galerie is a non-profit photography gallery located in Friedrichshain, Berlin. Run by a collective of photographers from varied backgrounds, it is a platform for contemporary photography that showcases the work of emerging, upcoming and established artists.
The gallery provides a space for networking and helps to promote the projects of national and international photographers.
Due to the non-commercial mission of the gallery, AFF Galerie is independent in the selection and curation of its shows. The exhibitions are put together by the collective's members with the support of well-known curators.


The 3G rule is in operation in the gallery, in addition to mandatory FFP2 masks. Due to the current circumstances, we ask that you take appropriate care during your visit to the gallery space.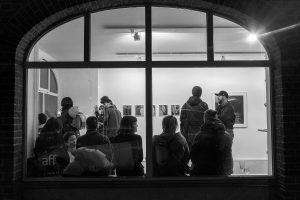 members
Julia Brigasky

Anne Erhard

Sven Gatter

Florian Grosse

Lukas Heibges

Maidje Meergans

Natascha Pohlmann

Sarah Straßmann

Matthias Walendy

Franca Wohlt
media partner