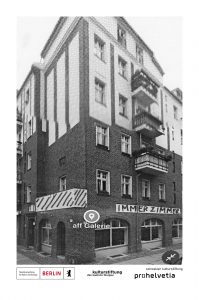 Unfolding Cities – The Photobook as Archive
artists
Susanne Hefti
Damjan Kokalevski
Stephan Keppel
In the exhibition "Unfolding Cities – The Photobook as Archive" AFF Galerie brings together works by two Swiss artists – Susanne Hefti and Damjan Kokalevski – with Dutch artist Stephan Keppel in Berlin. While Susanne Hefti and Damjan Kokalevski's joint project "Skopje Walkie Talkie" (Spector Books, 2019) focuses on the shifts and changes of the North Macedonian city Skopje with a research based approach, Stephan Keppel casts his inquisitive gaze on the hidden narratives of Amsterdam in "Soft Copy Hard Copy" (Fw:Books, 2021).
The three represented positions are inherently connected by their thorough engagement with the living spaces and architectures of our cities. These interactions were translated into publications that examine the creative freedom and limits of this medium in an innovative way. Through these projects, as well as through the three personalities, the value of layered methodologies is revealed. Artistic expression can be experienced physically in books, with printed matter pointing us back to something lasting in an increasingly digital world. However, the manner by which the pages of books are filled follows a different process than the construction of a place.
The three artists will utilize their trialogue exhibition to open up an exchange between the two cities in their books through a structure in the gallery space developed in collaboration with the curatorial team. The archive and source materials of the books are translated into a new spatial order, where the disparate elements of both projects fuse into "Unfolding Cities" on both the inside and the outside of the gallery.
Curatorial Team of AFF Galerie: Anne Erhard und Lukas Heibges
The exhibition is supported by the Senatsverwaltung für Kultur und Europa Berlin, the Kulturstiftung des Kantons Thurgau and Pro Helvetia Swiss Arts Council.
Visit
Address
AFF Galerie
Kochhannstraße 14
10249 Berlin
opening hours
During the exhibitions
Saturday and Sunday
3-6 pm
transport
M5, M6, M8, M10
Landsberger Allee / Petersburger Straße
S41, S42, S8, S85, S9
Landsberger Allee
U5
Frankfurter Tor
society
AFF Galerie is a non-profit photography gallery located in Friedrichshain, Berlin. Run by a collective of photographers from varied backgrounds, it is a platform for contemporary photography that showcases the work of emerging, upcoming and established artists.
The gallery provides a space for networking and helps to promote the projects of national and international photographers.
Due to the non-commercial mission of the gallery, AFF Galerie is independent in the selection and curation of its shows. The exhibitions are put together by the collective's members with the support of well-known curators.


The 2G rule is in operation in the gallery. Due to the current circumstances, we ask that you take appropriate care during your visit to the gallery space.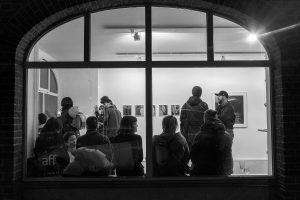 members
Julia Brigasky

Anne Erhard

Sven Gatter

Florian Grosse

Lukas Heibges

Maidje Meergans

Natascha Pohlmann

Sarah Straßmann

Matthias Walendy

Franca Wohlt
media partner