tempo
artists
Ines Könitz
Lucie Marsmann
"The sunshine, so warm here. Now and again there's rain. Oranges and lemons grow by the window."
In the exhibition titled 'tempo' (Italian for time and weather) Ines Könitz and Lucie Marsmann revisit their families memories of long gone holidays in Italy. Through merging and artistically adding to their own family archives, they create an atmosphere, showing an idealistic vision of vacation of days gone by. Pictures from the archives, postcards, as well as photographs of recreated holiday memories and associated objects form a collection with the capacity of getting lost in time.
The exhibition is supported by the Senate Department for Culture and Europe Berlin.
Visit
Address
AFF Galerie
Kochhannstraße 14
10249 Berlin
opening hours
During the exhibitions
Saturday and Sunday
3-6 pm
transport
M5, M6, M8, M10
Landsberger Allee / Petersburger Straße
S41, S42, S8, S85, S9
Landsberger Allee
U5
Frankfurter Tor
society
AFF Galerie is a non-profit photography gallery located in Friedrichshain, Berlin. Run by a collective of photographers from varied backgrounds, it is a platform for contemporary photography that showcases the work of emerging, upcoming and established artists.
The gallery provides a space for networking and helps to promote the projects of national and international photographers.
Due to the non-commercial mission of the gallery, AFF Galerie is independent in the selection and curation of its shows. The exhibitions are put together by the collective's members with the support of well-known curators.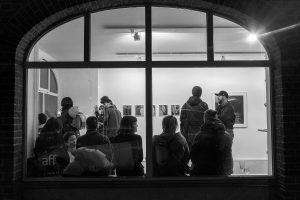 members
Julia Brigasky

Anne Erhard

Sven Gatter

Florian Grosse

Lukas Heibges

Maidje Meergans

Natascha Pohlmann

Sarah Straßmann

Matthias Walendy

Franca Wohlt
media partner